Gord
Gender:
Male
Age:
23
Nationality:
Canadian
Born:
July 27, 1992
Friends and Family
Friends:
Jesse, Rory (formerly)
Love interests:
Erica (formerly)
Gord was Jesse's right-hand fangster in My Babysitter's a Vampire: The Movie. He is a twisted young (or old?) vampire who thoroughly enjoys his vampire hard-work, especially when it involves scaring everyone else, like biting and displaying his fangs.
History
Gord is always looking for fun he can sink his fangs into, and if that gets him into trouble, the better it is..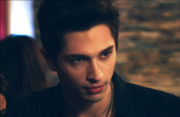 Gerica: In the movie he seemed to show some affection towards Erica, although it is thought that he just wanted to have some fun he could literally sink his fangs into, as he is the one who bit her, turning her into a fledgling.
Abilities
Ad blocker interference detected!
Wikia is a free-to-use site that makes money from advertising. We have a modified experience for viewers using ad blockers

Wikia is not accessible if you've made further modifications. Remove the custom ad blocker rule(s) and the page will load as expected.