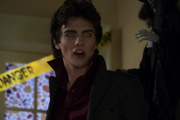 During the episode
 Halloweird
,
Ethan
was turned into Jakeward by
Rory
who had
Taquaks Mask
on. Jakeward is a character from
Dusk
(a parody of Twilight so Jakeward is Jacob and Edward's names combined)
, in the original movie he was called James but in Halloweird the name was changed to Jakeward. He is in love with
Rochelle
(who
Sarah
dressed up as).
Ad blocker interference detected!
Wikia is a free-to-use site that makes money from advertising. We have a modified experience for viewers using ad blockers

Wikia is not accessible if you've made further modifications. Remove the custom ad blocker rule(s) and the page will load as expected.