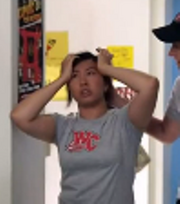 Jen is a character who appeared in
Smells Like Trouble
and
Blue Moon
.
History
In, Smells Like Trouble, she was one of the girls who got potioned by Benny. When she gets angry, she gets a whip, and tries to tie Benny's feet together, she misses, falling to the ground. In Blue Moon, she was trying out for soccer, but when Sarah was there, she accidentally gave her a concussion. The coach then took her to the nurse. She also was in the movie and was watching Dusk.
Ad blocker interference detected!
Wikia is a free-to-use site that makes money from advertising. We have a modified experience for viewers using ad blockers

Wikia is not accessible if you've made further modifications. Remove the custom ad blocker rule(s) and the page will load as expected.