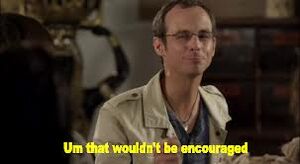 Mr.G is an employee at Whitechapel High School and has multiple duties. His jobs have been seen as wrestling coach, teacher, gardener, photographer, etc. He is very relaxed and almost hippie-like. Because of this, most students at Whitechapel like him. He rarely ever gives out punishments, the only time being in Say You'll Be Maztak, where he gives Sarah and Erica detention for breaking the glass skull, not knowing they saved his life.
Ad blocker interference detected!
Wikia is a free-to-use site that makes money from advertising. We have a modified experience for viewers using ad blockers

Wikia is not accessible if you've made further modifications. Remove the custom ad blocker rule(s) and the page will load as expected.