Potion are mixtures of stuff to creating liquid to have different effects. 
Witches
,
Spellmasters
, and
Earth Priestesses
 have the ability to brew potions. 
Benny
brought three potions to
Ethan
to see which one was the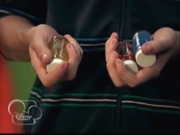 Revival Potion
.  Benny used the Revival Potion to resurrect Puffles to get Delia to like him and go out with him. 
Benny
brewed a
Love Potion
 to make
Erica
fall in love with him which resulted in every girl in school liking both him and
Ethan
. 
Grandma
brewed a potion to reverse the effects of the
Revival Potion
and incinerate the reanimated bodies.