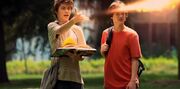 Spellmasters
are supernatural people who can perform magic in the form of casting spells and brewing
potions
.
Basically the male version of a witch and can do everything with a simple spell but they don't always work out because of lack of practice
Powers and Abilities
Edit
Being individuals who specialize in witchcraft and magic. Spellmasters are able to utilize magic in the form of casting spells and brewing potions. Although they are able to use magic to meet their needs, the spells they chant must be pronounced correctly in order for them to work properly, otherwise they will pay unexpected consequences.
Their powers parallel to other magical races such as Witches and Earth Priestesses.
Known Spellmasters
Edit
Ad blocker interference detected!
Wikia is a free-to-use site that makes money from advertising. We have a modified experience for viewers using ad blockers

Wikia is not accessible if you've made further modifications. Remove the custom ad blocker rule(s) and the page will load as expected.