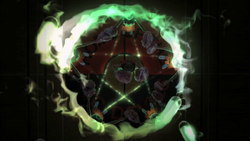 This spell was used by
Stephanie
in the episode
Three Cheers for Evil
. The spells were concealed as cheers and performed by the
Cheerleading Club
to take the souls of the pep rally attendees in order to grant Stephanie immortality.
"Our finest hour
No stopping us now
You can't resist our power
"We're the forces of nature
That's what makes a star,
We may look like girls
But that's not all we are.
Give up now 'cause you're gonna be beat,
We're out for power and you're in for defeat.
We join our hands together, see the perfect shape we make,
Our five-point tradition is impossible to break."
"Garno Verto Immortalis," repeated many times.
Fact: Garno Verto Immortalis means find immortal power.