"The Date to End all Dates"

Season 2, Episode 25-26

Information
Canada air date

November 29, 2012 (Part 1)
December 6, 2012 (Part 2)

U.S. air date

September 28, 2012(part 1)
October 5,2012(Part 2)

Prod. Code

212-213

Writer(s)
Story by: Tim Burns
Illustrated by: Moth

---

Approved by: Mike Pence (Part 2)
Director

TW peacocke

Episode Guide
Previous
Next

"None"
"The Date to End All Dates" is episode 12-13 in season 2 of My Babysitter's a Vampire, and the 25th-26th episode overall. Part one aired on Disney Channel in the United States on September 28, 2012 and part two on October 5, 2012. Part one is scheduled to air on Teletoon in Canada on November 29, 2012 and part two on December 6, 2012.The title refures to the fact that Ethan And his friends must help and save whitechapel or nobody will be safe.This is also the series finale of the show.
The Vampire Council has been raided, and the intruder is looking for something called  The Lucifractor. But Ethan has more important things to worry about - his first date with Sarah! Lucky for him, Benny and Rory step up to handle the Vampire adventuring on their own, while Ethan plans the perfect dinner with the girl of his dreams. While Benny and Rory was adventuring Ethan has a vision of Jesse But their evening is interrupted by a blast and Ethan learns the terrible history of the Lucifractor - and having to team up with an old foe.
While trying to recover the fearsome Lucifractor, Ethan and Benny learn the truth about what, and who, they're up against. Ethan must face his worst fears and his only hope is to trust in his connection to his friends, and harness his growing psychic abilities. With the lives of every vampire in town at risk, the council flees taking a few unexpected guests along for the ride and Ethan must ask an old friend, and an even older enemy, to return and lend a hand. The battle is on to take control of Whitechapel, and - fangs or - nobody is safe.
Ethan and Sarah are in the middle of a house when it's interrupted by Rory, who startles Ethan out of his cloud. Rory tells him that The Vampire Council wants to see him but Ethan's more concerned with the fact that he and Benny made a deal; he had a year to ask Sarah out and today is the last day. At school, Rory approaches him again and tells him that he have been authorized to use force to make him go. Ethan meets with Anastasia, the head vampire, who orders him to use his seer skills to find out what happened to one of their recently incapacitated elders. He complies and sees that a cloaked man had tortured him for information about the Lucifractor, which concerns the Vampires.
Afterward, one of the vampire council members grabs Erica and Rory and escape and we see that they're outside on a hill and there is a shock wave of purple energy. The gang escapes and almost died.The episode ends with vice principal sterns death and Sarah,Ethan,Benny win the battle and take back White chapel.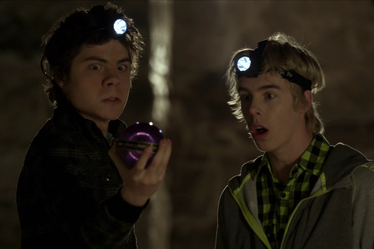 CREDITS:
Joe Dinicol as Jessie comes back for this episode since ReVamped
Vanessa Morgan and Kate Todd sing the the shows theme song in this episode.
This is the second episode to end with a cliffhanger, the first being Three Geeks and a Demon
The ending of this episode is very similar to that of Re-Vamped. However, instead of Rory, Erica and Sarah flying into the air, Anastasia, Rory and Erica flying away.
Both episodes aired in Brazil near Halloween, before airing in the U.S.
Ethan and Sarah may have started dating
The image gallery for The Date to End All Dates may be viewed here.
Ad blocker interference detected!
Wikia is a free-to-use site that makes money from advertising. We have a modified experience for viewers using ad blockers

Wikia is not accessible if you've made further modifications. Remove the custom ad blocker rule(s) and the page will load as expected.